Novo mesto Cultural Heritage Promotion Committee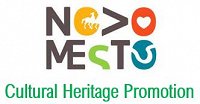 ---
---
Content
Novo mesto Cultural Heritage Promotion Committee
Committee Members
Five Academies in Novo mesto 2017-2021
eMonuments
International Links
---
The most important activity of the Committee, established in 2017, is the efficient and comprehensive presentation of the extremely rich and venerable cultural heritage of Novo mesto and south-eastern Slovenia.
The establishment of the oldest Teresian gymnasium in the then Habsburg monarchy in our Novo mesto represents a particularly noble phenomenon of our cultural heritage. The gymnasium was founded in Novo mesto by Empress Maria Theresa on 8 August 1746, thus satisfying the ardent wishes of the then prominent citizens of Novo mesto and especially the Franciscans of Novo mesto.
Many famous Slovenian writers, poets, scientists, engineers, artists, painters and other creative people studied in our gymnasium.
The Committee pays constant and special attention to the state-of-the-art digitization of our extensive, rich and diverse cultural heritage. Today, the digitization of many activities in the world is of key and crucial importance. This year, our Committee is organizing its fifth professional meeting, its fifth Academy. Many Slovenian intellectuals, eminent scientists, experts, municipality mayors and directors of successful business firms came to our meetings.
Through the effective promotion of cultural heritage, the Committee also wants to comprehensively expand the importance of the sustainable development of modern tourism in these parts of Slovenia and thus contribute its share to the promotion of European cultural heritage.
---
Committee Members
Dr. Lea-Marija Colarič-Jakše, Assistant Professor & Dean
Landscape Governance College GRM Novo mesto & Head, Research and Development Institute Grm Novo mesto - Biotechnics and Tourism Center
Lea.Colaric-Jakse@VSGrm.UNm.si
Dr. Vida Čadonič Špelič, Director
Municipality Administration, City Municipality of Novo mesto
Vida.Cadonic.Spelic@Novomesto.si
Dr. Janez Gabrijelčič, Initiator of the Growing Book
Growing Book in Slovenia & United Growing Books of the World
Dr. Jože Gričar, Professor Emeritus, University of Maribor, Deputy President
Website Editor, Novo mesto Cultural Heritage Promotion
Program Coordinator, Inter-Municipality Initiative: Cross-border eCollaboration in the eRegion, Members
& Librarian, Franciscan Friary Library Novo mesto
Franciscan Monastery Novo mesto
Tomaz.Hocevar@RKC.si
Dr. Miha Japelj, Professor of Organic Chemical Technology, President
Member, Slovenian Academy of Engineering & Honorary President, Krka Awards Fund Council
Miha Japelj Franc.Pavel@t-2.net
Dr. Milček Komelj, Associate Professor Ret.
Member, Slovenian Academy of Sciences and Arts (SAZU), Vice President for Humanities, Social Sciences and Arts
Member, European Academy of Sciences and Arts (EASA)
Franci Koncilija, Deputy President
Cultural Association Severin Šali Novo mesto
& Website Editor
Mojca Lukšič, Headmistress
General Upper Secondary Education - Gimnazija Novo mesto
Ddr. Janez Usenik, Professor Emeritus
Member of the Board, Dolenjska Academic Initiative
---
Five Academies in Novo mesto 2017-2021
9.11 2021 Academy 2021 in Novo mesto: Exploitation of Digitized Cultural Heritage for ePromotion
Virtual Academy 2020: Digitize Novo mesto's Cultural Heritage Materials
22.5.2019 Academy 2019 – Cultural Heritage ePromotion in the Krka & Kolpa/Kupa River Basin
25.5.2018 Novo mesto Academy at the European Year of Cultural Heritage
08.9.2017 From Maria Theresa Gymnasium in 1746 to Academic Initiative in 2017
---
eMonuments
The establishment of eMonuments is part of a broader effort to promote the digitization of cultural heritage in Slovenia and in the eRegion of neighboring countries (Central Europe). eMonuments have some common features:
There are no costs for their production and publication.
They do not need complicated consents to set up.
They are visible to anyone interested around the world.
They can be linked into thematic groups of eMonuments.
They connect people who value their cultural heritage, preserve it and create new ones.
Fulbright eMonument – 4th of July, 2020.
eMonument The Life of Boris Andrijanič, mr. ph., Novo mesto Citizen (1910-1993). E-spomenik Življenje Novomeščana Borisa Andrijaniča, mag. farmacije (1910-1993). Kamra, Knjižnica Mirana Jarca Novo mesto, 15. maj 2020.
eMonument Franciscan with a Growing Book in Novo mesto – 3/11/2020).
Growing Book of the Grammar Schools' Memory eBooks in Slovenia, 2019.
Internet Memorial to the Citizens of Novo mesto 1745. 25.5.2018 Novo mesto Academy at the European Year of Cultural Heritage.
---
International Links
---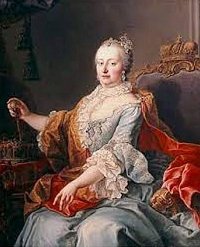 Empress Maria Theresa 1717-1780
Empress Maria Theresa Gymnasiums Network
The Empress Maria Theresa Gymnasiums Network was formed on the occasion of Novo mesto Academy at the European Year of Cultural Heritage on May 25, 2018 with the following objectives:
Expressing thanks to the Empress Maria Theresa for her visionary appreciation of education.
Presenting the gymnasium's history as a component of the European cultural heritage.
Suggesting ways of efficient cultural heritage promotion to the benefits of sustainable tourism in the local community.
Encouraging collaboration and exchange of gymnasiums' students and teachers by exploiting e-technologies.
Suggesting possible joint cross-border project proposals.
Providing links to at least three gymnasium's representatives to the network: principal/director, teacher of English, website editor.
Linking with eSchools networks.
---
6.10.2017 Novo mesto, Slovenia & Karlovac, Croatia eCollaboration Gathering
---
Links to cultural heritage of Novo mesto
---